---
CPIM Part 1 Test with Confidence promotion
APICS is offering a free retake exam (if needed) to anyone who sits for the CPIM Part 1 exam between April 1 and May 15, 2018.
Note: This promotion is intended for first-time test-takers and does not apply to retake exam purchases.
Promotion details:
No campaign code is needed! This promotion is open to candidates worldwide.
CPIM candidates who are first-time test-takers will be offered the free exam retake, if needed, when they sit for their exam between April 1 and May 15, 2018.
Candidates with a valid exam credit who sit for their CPIM Part 1 exam between April 1 and May 15, 2018 are also eligible for the free retake.
Eligible candidates will receive a free Authorization to Test (ATT), if needed, between May 15 and May 31. The free exam retake ATT will expire six months from the issue date.
Anyone who currently holds a valid retake ATT or has scheduled their retake exam between the promotion dates does not qualify for the free retake promotion.
There are no refunds or exchanges for the retake exam.
If you have any questions regarding these incentives or promotions, please contact exams@apics.org.
---
Tour of Raymond Corp.
3/23/2018 @ 2pm

The Raymond Corporation is a leading manufacturer of forklift trucks and pallet jacks, as well as a provider of telematics and material handling solutions to improve warehouse operations. Join the Binghamton Univ. Student Chapter, on Friday, March 23, 2018 at 2pm, as we tour their expansive warehouse and get an inside look at their daily operations!
RSVP at tinyurl.com/raymondtour
Dress is neat casual. Questions? Where to meet? Contact apics@binghamtonsa.org
---
Leadership and Careers in Supply Chain Management
The Binghamton University Student Chapter APICS team is excited to announce a Leadership and Careers in Supply Chain Management presentation, March 20th, through a collaboration with Women in Business.

The presentation will be given by APICS faculty adviser, Professor Don Sheldon, who will discuss what it means to be a leader in supply chain management, as well as prospective careers in the evolving industry. Professor Sheldon has a diverse background with decades of experience in supply chain management and related fields, and we are excited to have him join us next Tuesday!
If you are interested in networking and learning more about leadership and careers in supply chain management, please be sure to RSVP to our event!
Tuesday, March 20th
Binghamton University room UU-103
6 - 7 PM
Neat Casual
RSVP Link
---
BSCM exam discontinuation
The CPIM has been recently revised from 5 exams to 2. The deadline of 7 January 2018, to take the old Basics of Supply Chain Management exam is approaching quickly. Unused old format exam credits will expire. Please schedule your exam right away to meet this deadline. Retakes will also be affected by the 7 January deadline as well. After that the new exam format and pricing will be in effect.
---
Binghamton University Will Compete in San Antonio, TX APICS Student Competition!
The team from Binghamton University, sponsored by the Southern Tier APICS chapter, that won first place at the Northeast APICS District competition last March (2017) will be competing in San Antonio in October (next month). The team is practicing now. Looking forward to the trip. Will give you all an update when we know how we do.
---
Upcoming APICS- AIS (Applied Instructor Skills) Workshop 8/12/17 in Scranton
Details can be found on the Education page.
---
Fmr. APICS Sr. VP Speaking at BU on May 2
Sharon Rice, Former Senior Vice President of Strategy at APICS Corporation Will be Guest Speaking in Binghamton University Operations Management class OPM-311 on May 2nd.
Sharon Rice will be speaking during the OPM-311 classes on May 2nd and it has been opened to APICS members that want to attend. The class times are 8:30-9:55am and 10:05-11:30am in room AA G008. A few topics she will be discussing are:
Women in the workplace
Job opportunities in operations
What to expect while working in operations
---
Congratulations to the Binghamton University Student Case Competition Team!
On March 4, 2017, a Binghamton University undergraduate supply chain problem-solving team representing Binghamton University's School of Management won Grand Champion at the APICS Northeast District Case Competition, scoring higher than all graduate-level teams. The other Binghamton team won 3rd place. The teams were sponsored by the Southern Tier Chapter of APICS, The Association for Supply Chain and Operations Management, and were coached by Donald Sheldon, BU Lecturer and board member of the local professional chapter. Other teams competing included Clarkson U, UConn, and UMass Amherst.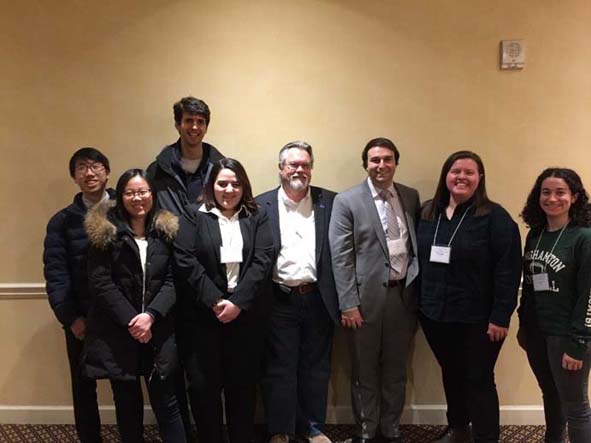 L to R David Wong, Liyang Tao, Jonathan Aranov, Barbara Perez, Prof. Donald Sheldon (coach), Sam Clarke, Amanda Martinez, Lisa Appelbaum
---
HUGE DEAL! – The next APICS CPIM offering is ECO (Execution and Control of Operations). This class is being populated by BAE and AMETEK, and has several openings if you are interested. Because of a grant, we can offer seats for an amazing $325 savings off normal prices! The cost for members and non-members is $250 -- and it includes the book! Don't miss out on this. There may never again be an offer like this one! This course starts Wednesday 5 April, 2017. Contact Don Sheldon dsheldon@sheldoninc.com if you are interested.
---
Mario A. Saucedo-Espinosa On Optimization
Mario A. Saucedo-Espinosa, a recent winner of the Tomas Hirschfield Scholar Award at the SCiX 2016 Conference by the Federation of Analytical Chemistry and Spectroscopy Societies (FACSS) Student Award Committee, will discuss his thoughts on optimization, from theory down to operations applications. He will be sharing fundamental optimization techniques that can be applicable to an array of fields, and practical business solutions. Mario's expertise includes the following: minimizing downtime of injection molding machines, optimizing polymer casting processes for rapid prototyping of biomedical devices, and optimizing the payments of multiple loans.
The presentation will be Feb. 1 @ 6:30 pm in University Union room 215.
Presented by APICS Binghamton University student chapter.
---
APICS Southern Tier Chapter wins award from APICS!
Your APICS Southern Tier Chapter has again been awarded Silver status for our work in 2016!
APICS explains:
Chapter management excellence is an integral component to enhancing the member experience. Successful APICS chapters provide their members with opportunities for stellar education, career development, and networking.
The APICS Chapter Benchmarking and Reporting (CBAR) program recognizes chapters that have exceeded minimum standards and exemplify excellence in overall chapter management. We are proud to announce the APICS Southern Tier of NY Chapter received the 2016 CBAR Silver Award designation, an admirable accomplishment for an APICS chapter.
As a member of an APICS Silver Award winning chapter, the CBAR designation signifies commitment to providing an exceptional membership experience.
---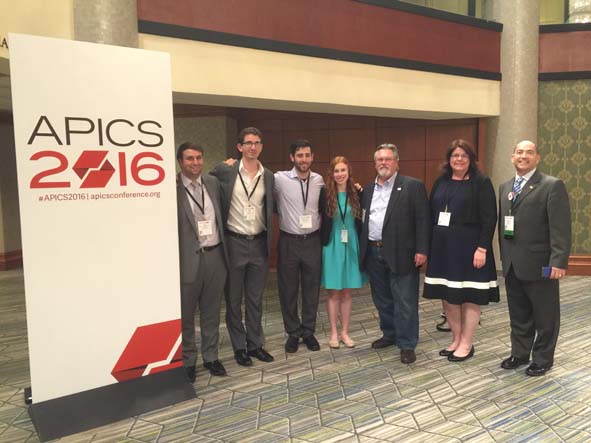 The Binghamton University's APICS Case Competition team represented the APICS Northeast district in an international case competition held in Washington DC this past weekend. This was a great experience for all. BU student team members were: (left to right) Sam Clarke, Peter Mattar, David Berlin and Kate Butera. Also in attendance were team coach Don Sheldon (third from right) and APICS Northeast District Administrators Jennifer Kevlin (2nd from right) and Joost Vles (right).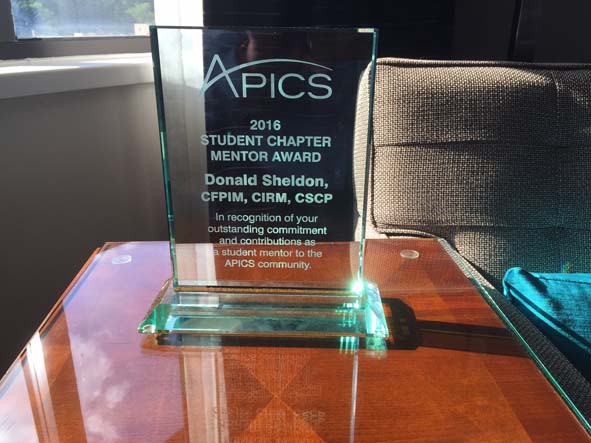 Professor Don Sheldon received the 2016 APICS Student Chapter Mentor award at the APICS International Conference in Washington DC this past weekend.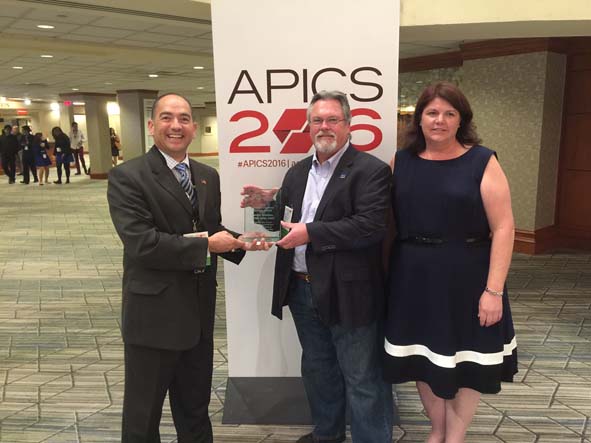 Donald Sheldon (center), lecturer at Binghamton University's School of Management and board member of the Southern Tier of New York Chapter of APICS, received the 2016 APICS Student Chapter Mentor award at the APICS International Conference in Washington DC this past weekend from APICS Northeast District Administrators Joost Vles (left) and Jennifer Kevlin (right).
---
Westcode Plant Tour
Wednesday November 16 at 6PM
Join Southern Tier APICS as we tour the Westcode manufacturing plant!
Westcode, headquartered in Chadds Ford, PA, is a company dedicated to supporting the Global Rolling Stock Industry, offering state of the art solutions for Air Supply, Door and HVAC systems and a range of Aftermarket products and services for vehicle systems including Air Suspension and Brake Control and Actuation. Westcode is a leading supplier to all major transit car manufacturers.
Please RSVP to Steve.Stanchak@Ricoh-USA.com by Nov 4
Location:
Westcode, Inc.
2226 Airport Rd
Binghamton, NY 13905
http://www.westcodeus.com/index.html
---
2016 APICS Student Mentor Award
Don Sheldon has been selected as the recipient of the 2016 APICS Student Mentor Award. The Student Mentor Award recognizes superior leadership and exceptional contributions with an uncommon commitment to the APICS vision and mission. Don's continuous years of dedication, steadfast commitment to the local and global APICS community and his contributions to the Southern Tier of New York Chapter merit this prestigious award.
APICS will recognize Don's achievement at the APICS 2016 Conference in Washington DC during the Leadership Summit General Session on Saturday, September 24th. The General Session will be held from 12:30pm to 1:30PM at the Marriot Wardman Park (Washington DC) in the Thurgood Marshall Northeast, where Don will be presented with a commemorative award.
---
Two BU School of Management Students named Supply Chain Council Scholars and are Awarded Scholarships to the APICS International Conference in Washington DC in September 2016
Steven Mandeville and Peter Behan have both received scholarships to participate in the APICS SCC 2016 Scholars Education Program at the 2016 International Conference in Washington D.C.!
As APICS Supply Chain Council Scholars, they will have the opportunity to attend educational sessions and networking events, visit the expo, and volunteer at the conference. They will also be paired with a mentor—a professional who will share real-world experiences with you. In addition, they will have the opportunity to network with Operations and Supply Chain management professionals and students from around the world.
As a participant in the APICS SCC Scholars Education Program, the SOM students will receive:
Complimentary conference registration
Hotel room (for up to 4 nights), double occupancy with another Scholar
$200 stipend upon completion of program activities
Professional APICS member as your mentor
Great networking opportunities with industry professionals
"The 2016 APICS SCC Scholar represents an investment of approximately $1,100 per selected participant"
It is extremely rare for multiple students from one university to be awarded this opportunity.
Additionally, as announced earlier this year, 4 Students will be representing Binghamton University in the International APICS Student Competition at the same conference in Washington, DC, as winners of the Northeast District college competition earlier this year. We congratulate all of them!
---
Southern Tier APICS and the Binghamton University student chapter received a tour of Binghamton's NYSEG Stadium.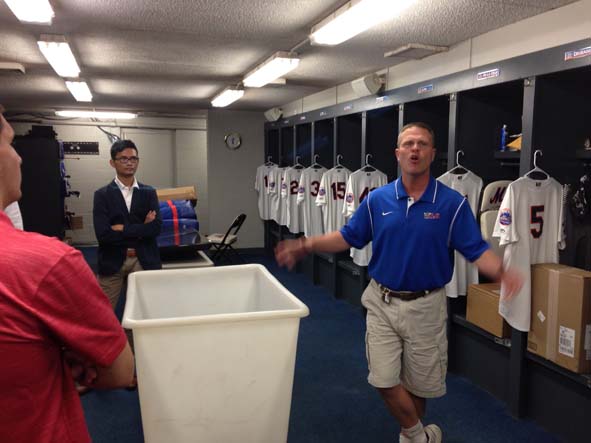 NYSEG Stadium Operations Manager Rich Tylicki speaks to our APICS group inside the Binghamton Mets clubhouse.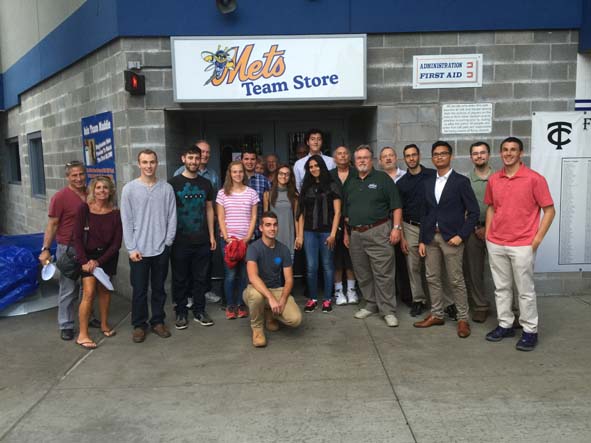 The APICS group received a tour of NYSEG Stadium. Thanks to the Binghamton Mets and NYSEG Stadium Operations Manager Rich Tylicki.
---
Tour of NYSEG stadium
August 31, 2016
On Aug 31 the Southern Tier Chapter of APICS welcomes its members and guests to tour NYSEG stadium, the home of the Binghamton Mets professional baseball team! The stadium was built in 1991, with the B-Mets playing their first season in 1992, marking the return of minor league baseball to Binghamton.
NYSEG stadium and the B-Mets are celebrating 25 years in the Triple Cities. STAPICS will get a behind-the-scenes look at how a professional ball team and its hosting facility operate. What do the dugouts look like? How many baseballs do they have ready for each game? How many hot dogs do they go through a game - and where is the Cracker Jack? This is your chance to see and ask.
Wednesday Aug 31
6 PM at NYSEG stadium
RSVP to steve.stanchak@ricoh-usa.com by 8/19 to join us
---
Binghamton University sweeps APICS Supply Chain Competition in Albany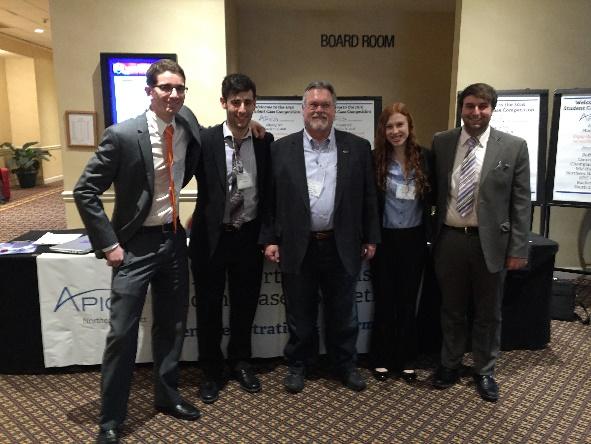 The winning team, L to R. Peter Mattar, David Berlin, Don Sheldon (coach), Kate Butera, Sam Clarke
Three teams from Binghamton University, sponsored by the Southern Tier APICS chapter, a professional operations and supply chain association, swept the supply chain problem solving competition in Albany this last weekend. The APICS North East district holds this event each year with schools from all over the NE competing. Schools this year included: Rutgers, UConn, UMass Boston, UMass Amherst, SUNY Buffalo, SUNY Plattsburg and several others. Binghamton University's undergrad teams, coached by Don Sheldon from Binghamton University, dominated the competition taking first, second and third places in the undergrad flight. Because the first place Binghamton undergrad team scored higher than the first place grad team, the team also won an expenses paid trip to Washington, DC this September to compete in the APICS national competition. The Southern Tier chapter of APICS is very proud of the students. Said Don Sheldon, "I knew we had three very competitive teams going into this competition. They worked very hard since last October to prepare for this event and we obviously had a lot of fun this weekend as the work paid off."
---
Tour of Ametek
April 29, 2016
AMETEK is a global leader in electronic instruments and electric motors with over $1.8 billion in annual sales. AMETEK has a facility in Binghamton, NY and has been good enough to allow APICS to tour their facility this month. Info:
No cost
Business casual
3 PM
29 April 2016
33 Lewis Rd # 6, Binghamton, NY 13905
Note that we need to know names ahead of time and also need to know if there will be non-US citizens attending. All are welcome, there is just more paperwork for non-U.S. citizens, as AMETEK is a US defense contractor.
PLEASE EMAIL dsheldon@sheldoninc.com. for a reservation to attend this tour. INCLUDE WITH THIS EMAIL, WHETHER YOU ARE A U.S. CITIZEN OR NOT. (All are welcome). Thank you!
---
APICS Student Chapter at Binghamton University
Congrats to our new e-board and chairs for fall'16 and spring '17!! Cannot wait to see what you guys are going to do for our chapter next year!
President: Kasey Hill
Vice President: Peter Behan
Student Liaison: Samar Alhihi
Treasurer: Nicholas Yeung
Secretary: Jasper Kitchen
Educational (internal) chair: Carlos Arciniegas
Educational (external) chair: David Berlin
Public Affairs chair: Jonathan Sabin
Fundraising: Steven Mandeville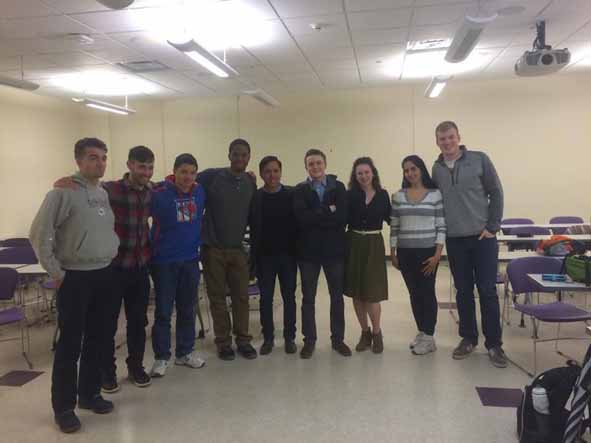 ---
APICS Announces New Certification Program Designed for Logistics, Transportation and Distribution Professionals
APICS has announced the development of the APICS Certified in Logistics, Transportation and Distribution (CLTD) designation. The new certification program will set the global standard for logistics best practices and candidates completing the comprehensive program will demonstrate in-depth knowledge of a broad range of logistics, transportation and distribution topics.
"APICS merged with American Society of Transportation and Logistics (AST&L) earlier this year to better serve one of the fastest growing industries in the world – logistics," said APICS CEO, Abe Eshkenazi, CSCP, CAE, CPA. "The APICS CLTD is a direct result of our merger with AST&L and gave us an opportunity to provide our members and customers with more comprehensive content and training programs. Working with and developing the logistics content, we are able to extend APICS's value for individuals pursuing or advancing careers in logistics, transportation and distribution."
The new CLTD certification supersedes the Certified in Transportation and Logistics (CTL) certification program and is designed to provide logistics managers with a body of knowledge, best practices, technology know-how and standards for those in the logistics, transportation and distribution industries. The CLTD designation focuses on eight content areas:
Logistics and Supply Chain Overview
Capacity Planning and Demand Management
Order Management
Inventory and Warehouse Management
Transportation Management
Global Logistics Considerations
Logistics Network Design
Reverse Logistics and Sustainability
This new certification program—developed by APICS and subject matter experts—will offer new courseware, self-study and instructor-led learning options and a single computer-based exam delivered worldwide via a test center network.
The APICS CLTD designation is aimed to serve the needs of both professionals and employers around the world and lessen the impact of the industry skills gap. Much like the APICS Certified in Production and Inventory Management (CPIM), Certified Supply Chain Professional (CSCP) and Supply Chain Operations Reference Professional (SCOR-P) designations, the CLTD will be globally recognized and support professional advancement. The CLTD also sets the global standard for logistics best practices, and assists employers in developing the personnel needed to meet customer demand.
The CLTD program is planned to launch in the second quarter of 2016. For additional information, please follow the links below:
---
The Southern Tier Chapter of APICS, based in Binghamton NY, serves Broome, Chenango, Cortland, Delaware, Otsego, Tioga, and Tompkins Counties. The chapter boasts a membership in excess of 30 members representing over 10 different local and international companies. These companies include Acco Brands, Raymond, IBM, and BAE plus many smaller companies. As a professional organization, our members are employed in all aspects of the resource management field including planning, forecasting, inventory control, scheduling, supply chain management and logistics.
---