---
Student Case Competition Feb 2019
On 15-16 February, an APICS student team from the School of Management at Binghamton University took second place in the Northeast Regional APICS Student Case Competition in Boston. APICS is the world's leading community for end-to-end supply chain excellence. The team representing Binghamton University was initially a winner in an internal class competition in SCM 480a, Supply Chain Problem Solving, coached by Prof. Donald Sheldon at BU. This earned them a place in the next step, a remote competition in Chicago at the APICS/ASCM headquarters. That competition was done remotely with video solutions. From that test, they were chosen as a finalist from among dozens of teams in the Chicago video case, held in November, 2018. Any student team can compete in the APICS Student Case Competition, and the BU team ended up being the only undergraduate team in the regional Boston competition. Judges in Boston were from Deloitte Consulting. Congratulations to the BU Team!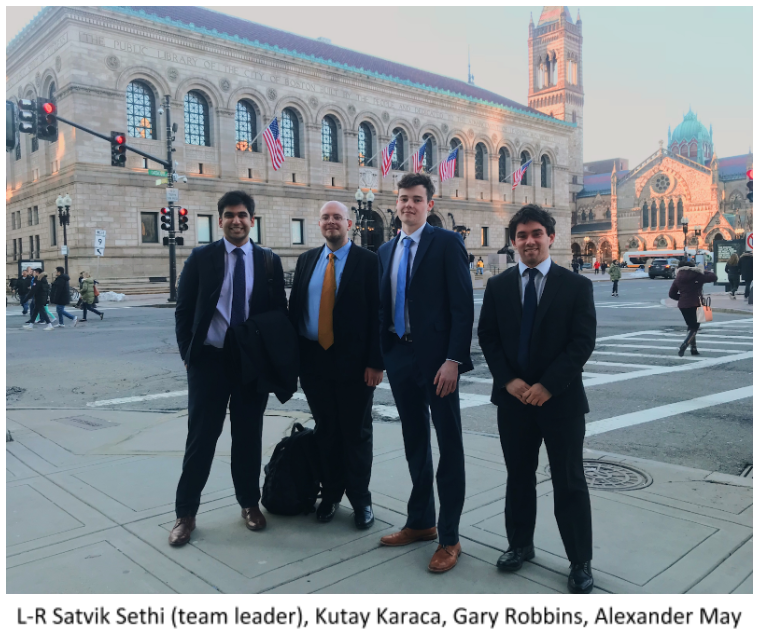 ---
CPIM Legacy Deadline Reminder
Program ends December 31!
Candidates who have CPIM legacy 5-module exams and retakes must schedule and complete their exams before the authorization expiration date. Seats are filling up fast so we recommend that you schedule now! Log in to your My APICS account and scroll down to "Exam Authorizations and Credits", then click on the link to schedule your exam.

The program ends December 31 and no authorizations will be extended past their due date or beyond the December 31 program deadline!
---
Tour of Dick's Sporting Goods distribution center

Thurs. 11/1/18 6pm
1314 Conklin Rd. Conklin (in the industrial park)
Meet in the lobby.
Dick's is giving APICS professional and student members a tour of their brand new distribution center in Conklin! You may know that Dick's got its start right here in Binghamton. We will see how they manage their inventory, replenishment, and distribution.
RSVP to
sstanchak@stny.rr.com
---
Talk by Steve Raymond, retired President of Raymond Handling Concepts Corp.

Oct. 24, 2018 at Binghamton University.
Mr. Raymond will talk about Raymond's and Raymond Handling Concepts' adoption and use of the philosophy of Toyota Production Systems. The talk will take place 1:30 pm - 3:30 pm on Wednesday, October 24th in Lecture Hall 9 on campus. All are invited.
---
APICS Announces New Certification Program Designed for Logistics, Transportation and Distribution Professionals
APICS has announced the development of the APICS Certified in Logistics, Transportation and Distribution (CLTD) designation. The new certification program will set the global standard for logistics best practices and candidates completing the comprehensive program will demonstrate in-depth knowledge of a broad range of logistics, transportation and distribution topics.
"APICS merged with American Society of Transportation and Logistics (AST&L) earlier this year to better serve one of the fastest growing industries in the world – logistics," said APICS CEO, Abe Eshkenazi, CSCP, CAE, CPA. "The APICS CLTD is a direct result of our merger with AST&L and gave us an opportunity to provide our members and customers with more comprehensive content and training programs. Working with and developing the logistics content, we are able to extend APICS's value for individuals pursuing or advancing careers in logistics, transportation and distribution."
The new CLTD certification supersedes the Certified in Transportation and Logistics (CTL) certification program and is designed to provide logistics managers with a body of knowledge, best practices, technology know-how and standards for those in the logistics, transportation and distribution industries. The CLTD designation focuses on eight content areas:
Logistics and Supply Chain Overview
Capacity Planning and Demand Management
Order Management
Inventory and Warehouse Management
Transportation Management
Global Logistics Considerations
Logistics Network Design
Reverse Logistics and Sustainability
This new certification program—developed by APICS and subject matter experts—will offer new courseware, self-study and instructor-led learning options and a single computer-based exam delivered worldwide via a test center network.
The APICS CLTD designation is aimed to serve the needs of both professionals and employers around the world and lessen the impact of the industry skills gap. Much like the APICS Certified in Production and Inventory Management (CPIM), Certified Supply Chain Professional (CSCP) and Supply Chain Operations Reference Professional (SCOR-P) designations, the CLTD will be globally recognized and support professional advancement. The CLTD also sets the global standard for logistics best practices, and assists employers in developing the personnel needed to meet customer demand.
The CLTD program is planned to launch in the second quarter of 2016. For additional information, please follow the links below:
---
The Southern Tier Chapter of APICS, based in Binghamton NY, serves Broome, Chenango, Cortland, Delaware, Otsego, Tioga, and Tompkins Counties. The chapter boasts a membership in excess of 30 members representing over 10 different local and international companies. These companies include Acco Brands, Raymond, IBM, and BAE plus many smaller companies. As a professional organization, our members are employed in all aspects of the resource management field including planning, forecasting, inventory control, scheduling, supply chain management and logistics.
---